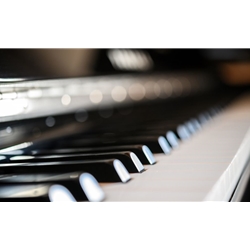 Learning a new instrument is a fun experience. Whether you're a brand-new learner or want to upgrade from your current instrument, it's good to know what options are out there. So, look at a beginner's guide to buying your first piano or keyboard.
Know Your Instruments
Before buying a new instrument, it's good to understand the difference between a keyboard and a piano—there are digital keyboards, digital pianos, and acoustic pianos.
Digital Keyboards
Keyboards are relatively the most affordable, convenient, and versatile for playing and traveling. They're great for first-time players but don't offer the best sound quality.
Digital Pianos
Larger than the digital keyboard and more expensive, digital pianos are still versatile while feeling like an acoustic piano. It's a great option if your budget and space allow for it.
Acoustic Pianos
Acoustic pianos offer the best sound, craftsmanship, playing experience, and are great for professionals. However, they are costly and take up space. So, be wary when you're considering getting one.
Key Importance
Piano Key Count
A surprising tip for a beginner's guide to buying your first piano or keyboard is to note the number of keys on the instrument. It matters enormously, depending on what styles of music you wish to play and your range of motion.
Full-sized keyboards come with 88 keys, spanning seven octaves and three extra notes, and offer the best playing experience. If you need a smaller size, consider going with 76 keys—consisting of six octaves and three notes—or even 61 keys—composed of five octaves.
Key Feel and Action
When you purchase a piano, something else to consider is its key action, which is the mechanism of a piano that produces sound. Digital pianos and keyboards don't have the same physical parts, but it's something to know for an acoustic piano. The critical action consists of:
Hammer action
Weighted action
Semi-weighted action
Unweighted action
Knowing Where to Purchase
After deciding on the pianos and keyboards you like, consider your buying options. It all comes down to your availability and flexibility. You can always visit a physical shop or search for online music equipment stores with good reputations.
If you are considering buying one today, visit us at Mundt Music. Based in Tyler, TX, we are a full-line music store offering an extensive array of musical instruments. From guitars, pianos, keyboards, drums—you name it! If you have any questions, give us a call today.